NewsPicks Inc.(hereinafter NewsPicks), a Uzabase Group company, is launching the #TalkforWE campaign: a special project to spark gender-related discussions and actions in commemoration of International Women's Day on Tuesday, March 8. The campaign will start on Monday, February 21. Through articles, programs, events, and comments by various users of the business social media NewsPicks, it aims to drive change towards a society where everyone, regardless of gender, enjoys ample opportunities and fulfillment in life and work.

Background
Diversity and inclusion (D&I) in organizations is also considered important in governance from the perspective that diverse perspectives promote innovation and improve awareness of diverse risks.

The Japan Business Federation (Keidanren) has set the goal to "increase the ratio of female executives to at least 30% by 2030" as part of its new growth strategy towards the post-COVID era. From the perspective of economic growth, various discussions have been held on the importance of diversity and how to put it into practice. On the other hand, as of July 2021, the ratio of female executives in Japanese listed companies was only 7.5% *. There is still a large gap before the target is achieved.

This campaign is intended to assist personal empowerment and corporate growth through understanding the current situation regarding gender equity in Japan as of 2022, as well as sharing information on role models and practices of advanced companies.
* Reference: Cabinet Office report on situation of female officers in listed companies

Campaign Overview
Featuring the hashtag #TalkforWE, the campaign sets out four themes: Facts & Numbers, Leadership, Awareness, and Innovation. Through the distribution of content over a period of about two months, we aim to stimulate a variety of discussions and actions.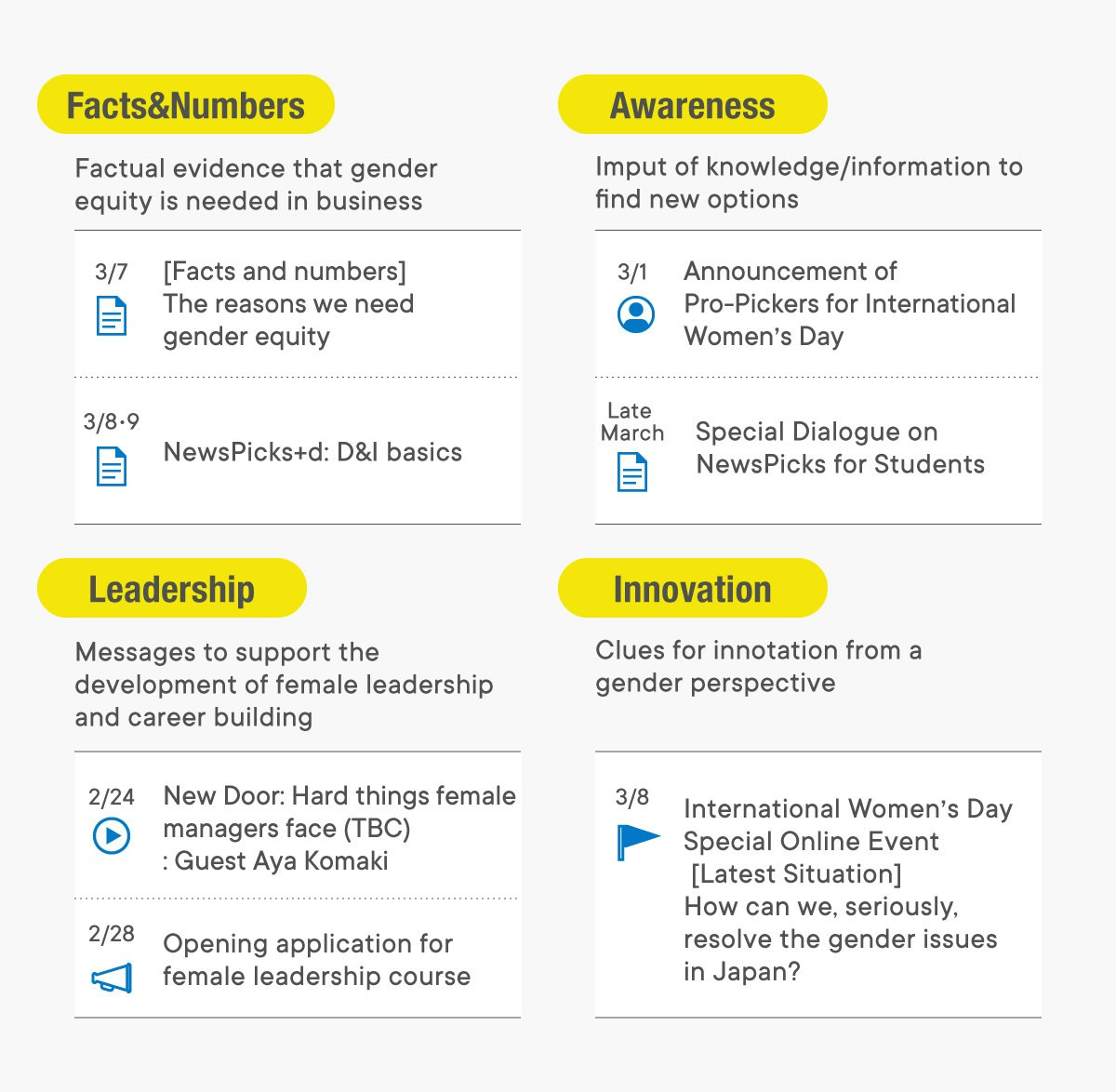 Comment from Yusuke Inagaki, Co-CEO
The Uzabase Group's Purpose is "Awaken a world of play in business, with our insights. " The word "world" reflects our desire to deliver value to every person in business, regardless of gender, age, nationalities, regions, or sexual orientation.
Meanwhile, the users of NewsPicks are still predominantly men in the metropolitan area of Japan. In order to fulfill our Purpose as a business media service, we are hoping to deliver contents to a diverse range of working people and offer opportunities for new ways of taking action.
This year's International Women's Day is an opportunity for us to step up our contribution in resolving Japan's serious social issues around gender. All the members of the Uzabase Group, including myself, are committed to tackle this major theme.

Comment from Taiko Otsuka, Executive Advisor
For the first time, NewsPicks will distribute information across multiple contents under the theme of D & I. While the timing is planned around International Women's Day, I invite you to join in the discussions to take place over two months, including the period before and after March 8.
Our goal is to "Awaken a world of play in business, with our insights. " If there are barriers that keep us from reaching this goal, we need wisdom, awareness, and action to overcome or break them.
"Are there really such barriers?" "Why do we need D & I?" "How can we demolish the barriers?" Over the two months, I would like to focus on these questions and think about them together with you.
And even after this period is over, we will continue to encourage more and more people to keep thinking and acting upon their beliefs.

About NewsPicks
NewsPicks is a business social media that distributes original articles created by its editorial team, as well as news contents from over 100 media outlets based in Japan and around the world. Users can gain a multifaceted understanding of news through comments posted by renowned figures and experts in various industries.
https://newspicks.com/about/

To download the NewsPicks app:
■iOS
https://app.adjust.com/cu2a5qy
■Android
https://app.adjust.com/fn34jmy

Contacts
NewsPicks, Inc.
https://corp.newspicks.com/
Uzabase, Inc. (PR department)
https://www.uzabase.com/contact/