Our Approach to Sustainability
Awakening a world of play in business and life means…
a harmony between a sustainable society and fulfilling individual and business purposes
Uzabase's purpose is to "Awaken a world of play in business, with our insights."
Awakening such a world requires finding  harmony between societal, business, and individual purposes. That would mean a world that is working towards solving environmental issues, such as climate change, through the development of business and society in a way that strikes a harmony between both. It would also mean a world that is working towards solving various labor-related issues, and, as a result, is able to awaken a world of play in business—where anyone and everyone can find joy in their work. This must be done through the development of business and individual talent in a way that strikes a harmony between both.
A world where people feel joy when doing business is a sustainable one.
One of our goals is to reconcile economic and social interests and to prove that the two are not, in fact, mutually exclusive. In order to achieve that, we have formulated our high-priority topics that we need to address—our materiality issues.
We aim to contribute to the sustainable development of the world through 1) our SaaS solutions, which in our mind could serve as solid infrastructure for management approaches rooted in sustainability, and 2) our social business media, which would encourage individual people to make meaningful changes in their daily lives towards sustainability.
This section gives the value creation process of the Uzabase Group.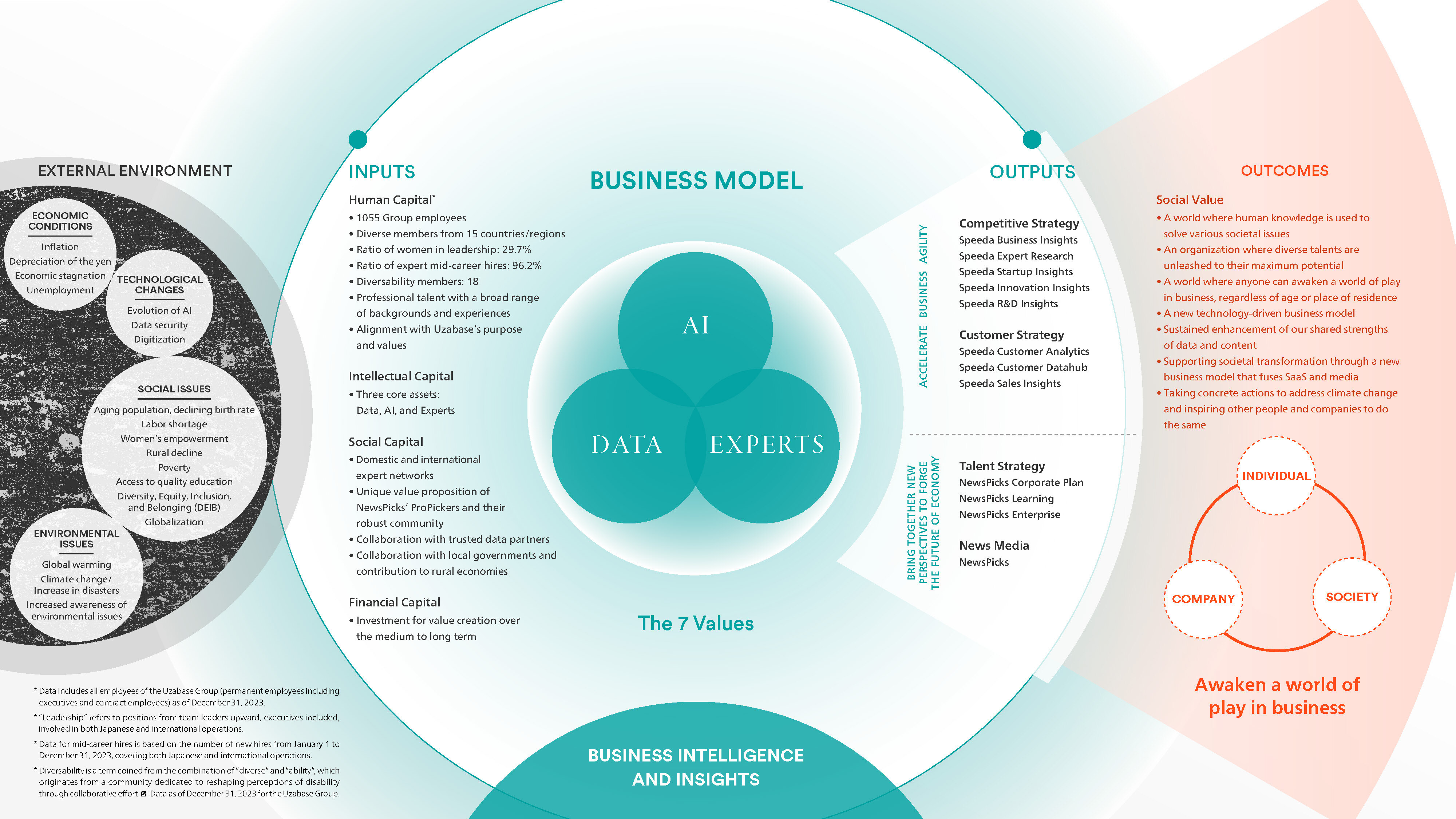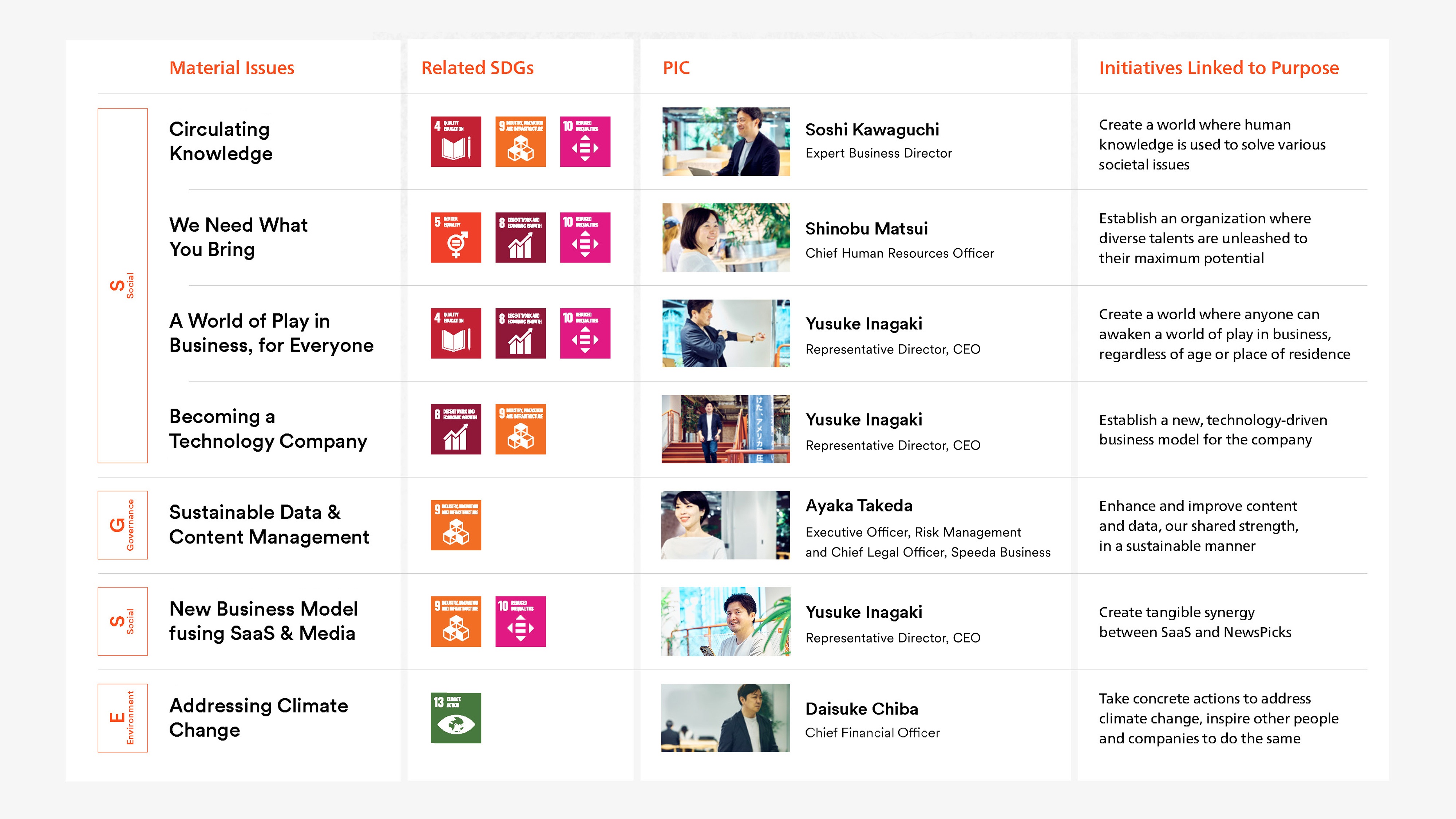 Circulating Knowledge

Connecting one person's knowledge with another person's knowledge creates new value. A lot of knowledge lies dormant inside people, unavailable online. Creating a true circle where people can exchange their knowledge will surely awaken a world of play in business.
MIMIR provides access to a network of experts, aiming to promote the circulation of knowledge within and outside the Uzabase Group. Our services aim to create opportunities for Uzabase members to interact with more experts outside the Group and leverage their knowledge. We also want to create a fitting environment and enough opportunities for members to provide their own expertise as a side job parallel to Uzabase. Through these efforts, we aim to properly circulate human knowledge, transcending the virtual boundaries between companies and organizations.
We believe that this will help more people to gain access to the knowledge held by a diverse range of people, recognize the value of their own knowledge, and contribute that knowledge to society.

We Need What You Bring

"Awaken a world of play in business, with our insights".
In line with our Purpose, Uzabase aims to deliver value to business professionals around the world by creating platform solutions that cater to the needs of a diverse range of users.
To achieve this, we ourselves need to be diverse. As one of our 7 Values says, "We need what you bring". This means having respect for each other and creating opportunities to unleash the full potential of each and every person working at Uzabase. This thinking is what drives the growth of our business and our teams.
We aim to create an organization where diverse talents have ample opportunities to unleash their full potential. By putting this goal into practice and spreading the news about what we learned from it, we believe we can help create a society where diverse talents can truly flourish.

A World of Play in Business, for Everyone

In order to awaken a world of play in business for everyone, the Uzabase Group will need to eliminate the information gaps that exist between different generations and different geographical regions. We will also need to provide more opportunities for people to enjoy quality content on business-related topics.
We would like to guide users who enjoy business topics to quality content that interests them, and help them become content creators themselves. We believe that this cycle will help circulate knowledge in the business world and help us create a society where quality content on business-related topics is continuously being distributed across the globe.
With our social business media NewsPicks at the center, we will work to collaborate with various people, including students and local communities, so that we can make high-quality content on business topics together, while also creating new ways to deliver information and create opportunities for those who need them.

Yusuke Inagaki

Co-CEO & CTO

Becoming a Technology Company

We want to be a technology company that awakens a world of play in business through the power of engineering.
Since Uzabase's founding in 2008, we have always aimed to combine the power of people and technology, drawing on the strengths of all team members to create must-have business intelligence services.
Technology changes the way business professionals work by freeing them from labor-intensive tasks, allowing them to shift to more creative, value-added work instead. This is a vision that we would like to not only deliver to our users, but also to embody ourselves.
One goal is to create a workplace where both engineers and non-engineers from a variety of backgrounds can leverage the power of engineering even further and enjoy taking on the challenges they desire.

Yusuke Inagaki

Co-CEO & CTO

Sustainable Data and Content Management

Ever since the company's founding, data and content have always been Uzabase's core assets. We believe that we can contribute to the sustainable development of our society by, first of all, providing data that helps individual people and companies to make decisions quickly and accurately, and secondly, by offering content that can serve as a starting point for making changes to existing ways of thinking.
As such, it is extremely important to make our data and content delivery system stronger and safer, and to improve its sustainability.
We want to deliver better data and content—and do it in a better way.
To make this mission a reality, we will aim to manage our data and content in a sustainable way. This will involve establishing strong relationships with content partners while also gathering more data ourselves, building up and expanding our security measures, ensuring that various policies and guidelines are properly implemented, and providing the necessary training to Uzabase members.

Ayaka Takeda

SaaS Business, CLO

New Business Model Fusing SaaS and Media

We want our SaaS users to also become NewsPicks users. Our goal is to provide the necessary support to bring change to our society, offering it to people who have changed their actions in some way through our NewsPicks content. The SaaS solutions we offer have the power to bring about that change.
We also want our NewsPicks users to become experts who share their knowledge with others. To those who have already demonstrated their expertise and their passion on NewsPicks, we can offer new opportunities to make the most of them. Our goal is to build a world where the expertise of people with different areas of specialty and with different passions is readily available and effectively utilized to solve social issues.
Achieving these two goals will bring us closer to awakening the world of play in business. We also believe that by leveraging such an important business intelligence asset as human knowledge across all of our services within the Uzabase Group, we can establish a long-term competitive edge that will stand the test of time.

Addressing Climate Change

A world of play in business awakened through our efforts should be a place of harmony, where the sustainability of society and the fulfillment of individual and business purposes are not mutually exclusive. Protecting the environment, a key issue on a global scale, is of great importance to achieving our Purpose, and we aim to address this issue through our combined efforts across the entire Uzabase Group.
As part of this initiative, we will be creating ways to contribute to carbon footprint reduction without interrupting our business activities, be it via our office, IT tools, or work style changes.
Additionally, as a company that provides information services and operates a business-related media service, we will be focusing on providing more information on global efforts towards environmental protection, including on the issue of climate change.
We would like to offer content on climate change through our SaaS products and NewsPicks, and hope that this will serve as a starting point for business professionals to start changing the way they approach this topic. Our goal is to work with individuals and companies to create a truly sustainable society.

Daisuke Chiba

Group Executive & CFO
"Awaken a world of play in business, with our insights".
Towards making our purpose a reality, we have formulated a set of topics that are material to Uzabase, the issues we need to prioritize in order to create value, both societal and economic. By working to address these material issues, we aim to provide continuous value to society, business, and individuals, while also improving our enterprise value.
Step 01

Identifying social issues that need to be addressed

The Sustainable Development Goals (SDGs) set up by the United Nations were used as a reference point for discussions between our management team and independent experts to identify those social issues that are highly relevant to our company's Purpose, business activities, and corporate culture.

Step 02

Assessing importance of these social issues to the company

Social issues identified at Step 1 were then also discussed by the Board of Directors, assessing their relevance and importance to our corporate strategy.

Step 03

Formulating Uzabase's materiality

Based on the assessment done at Step 2, and with the approval received from the Board of Directors, Uzabase's 7 Material Issues were formulated.
This section gives Promotion of ESG (environment, society, governance) of the Uzabase Group.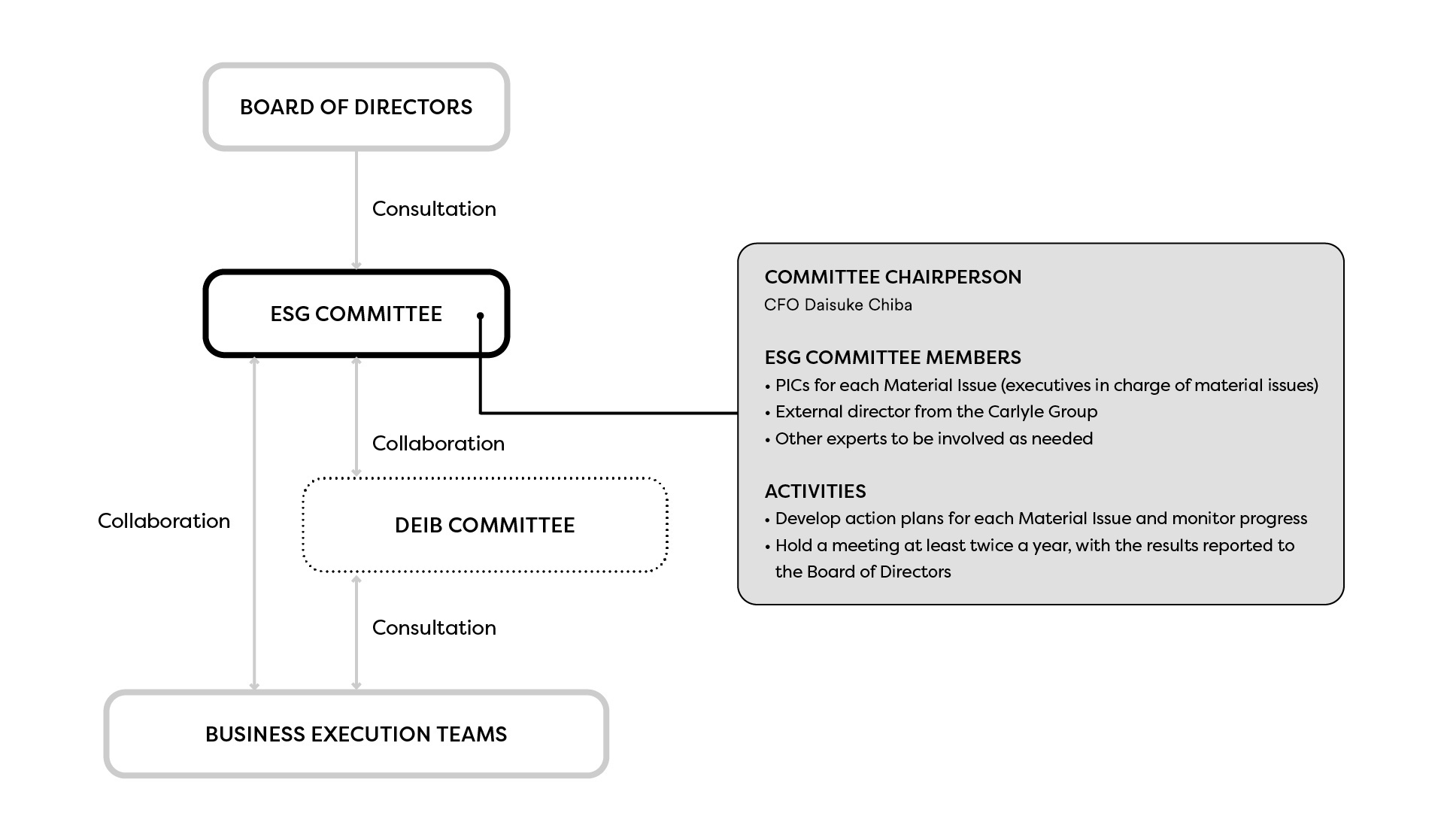 This section gives major ESG (environment, society, governance) data for corporate activities of the Uzabase Group.
This section presents an integrated report containing financial and non-financial information on Uzabase, Inc. intended for all of its stakeholders. It contains information on the consolidated earnings of the company, as well as management policies and business strategies for mid- to long-term value creation.