Our Approach to Sustainability
Awakening a world of play in business and life means…
a harmony between a sustainable society and fulfilling individual and business purposes
Uzabase's purpose is to "Awaken a world of play in business, with our insights."
Awakening such a world requires finding harmony between societal, business, and individual purposes. That would mean a world that is working towards solving environmental issues, such as climate change, through the development of business and society in a way that strikes a harmony between both. It would also mean a world that is working towards solving various labor-related issues, and, as a result, is able to awaken a world of play in business—where anyone and everyone can find joy in their work. This must be done through the development of business and individual talent in a way that strikes a harmony between both.
A world where people feel joy when doing business is a sustainable one.
One of our goals is to reconcile economic and social interests and to prove that the two are not, in fact, mutually exclusive. In order to achieve that, we have formulated our high-priority topics that we need to address—our materiality issues.
We aim to contribute to such a sustainable world through (1) our SaaS solutions, which serve as solid infrastructure for popularizing a customer-oriented, highly adaptable approach to business management (Agile Business Management), and (2) our social business media, which bring together perspectives to forge new horizons.
This section gives the value creation process of the Uzabase Group.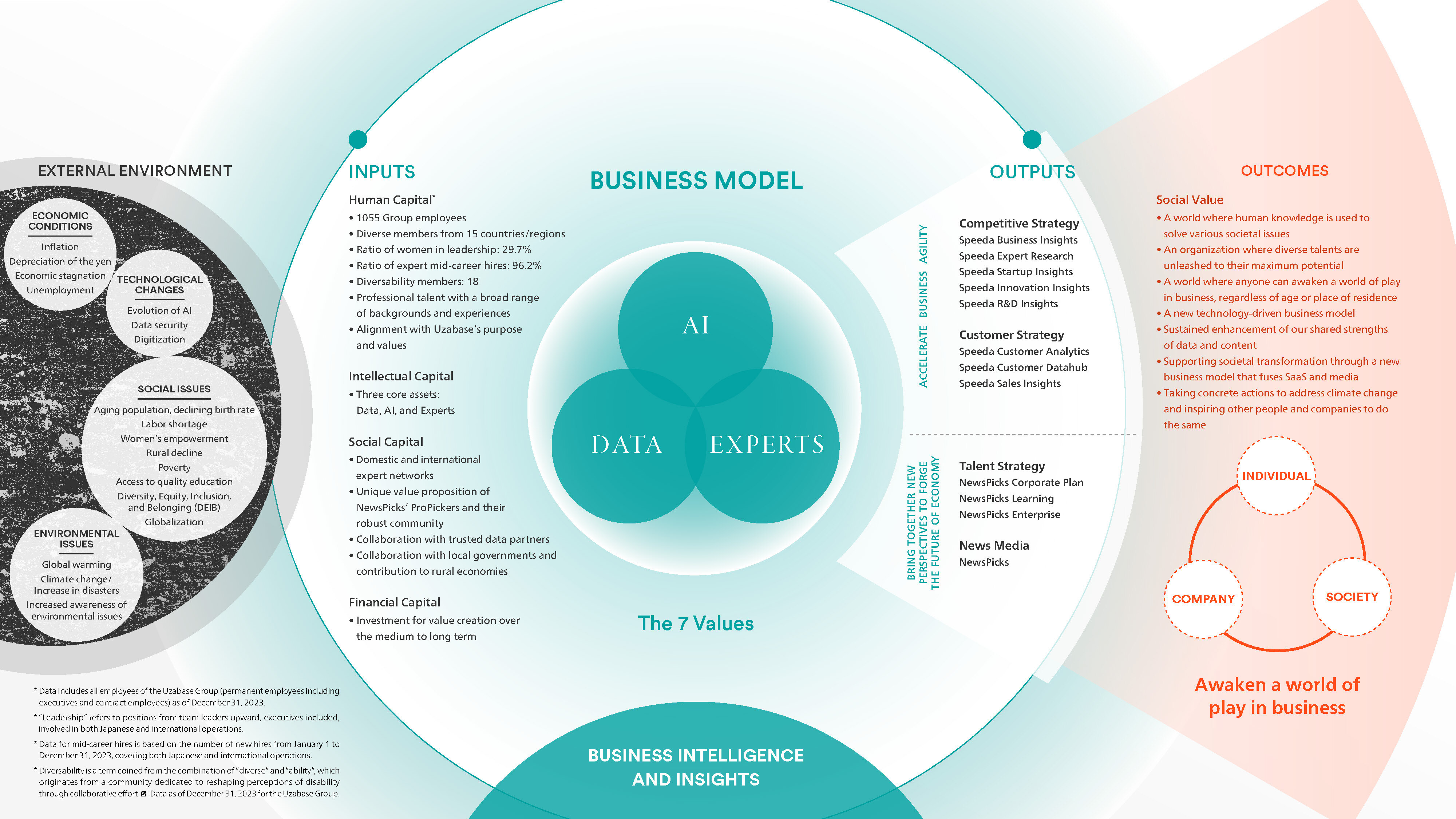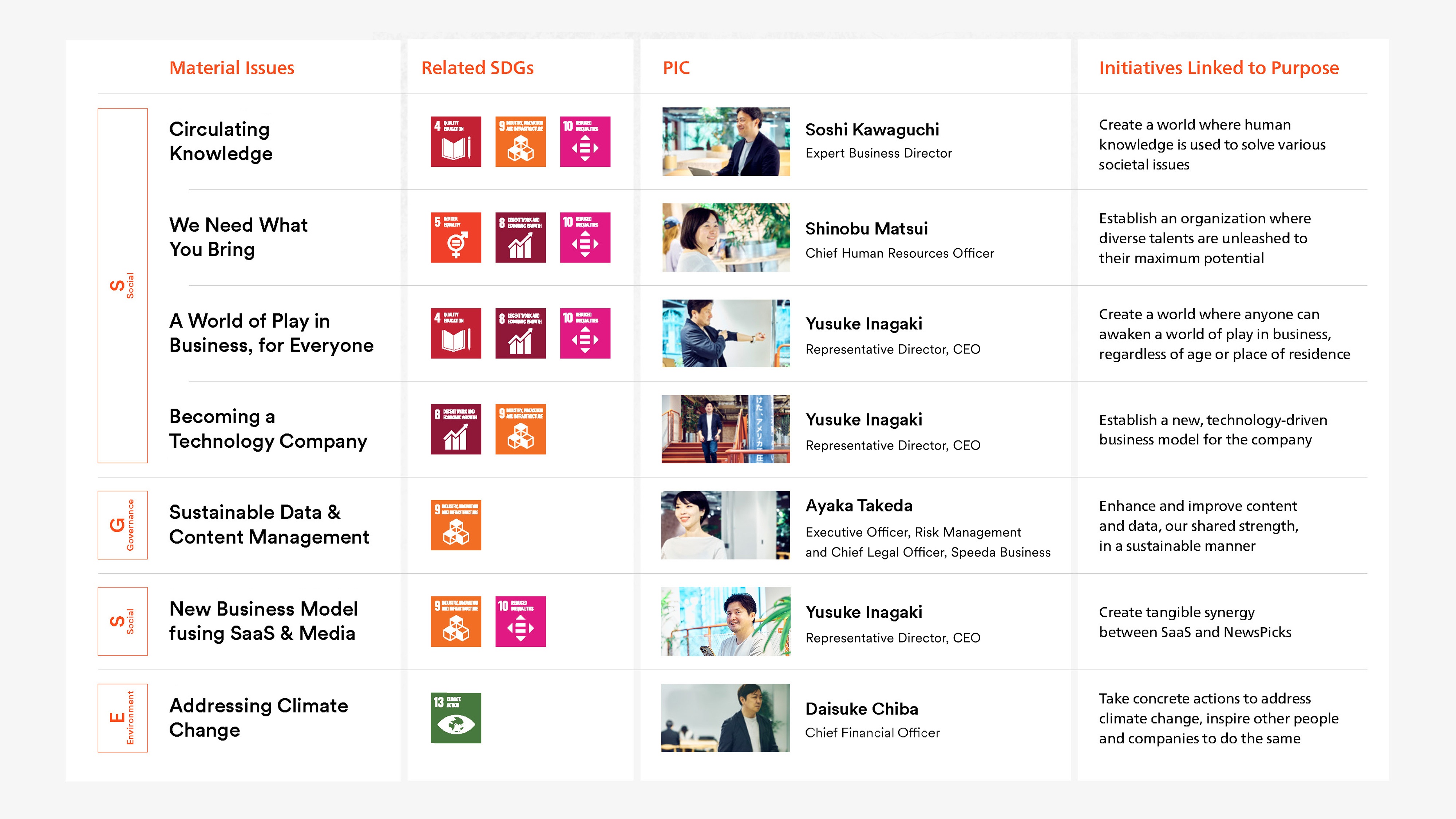 Circulating Knowledge

Humans are capable of creating new value just by connecting one person's knowledge with another's. But this knowledge often lies dormant within people, and is not available on the internet. Now, imagine a world where this human insight is shared and circulated freely—wouldn't that awaken a world of play in business?
What we want to do is spark that exchange of knowledge, both inside the Uzabase Group and beyond. Our goal is to foster new opportunities for Uzabase members to interact with external experts, while also creating a fitting environment and enough opportunities for members to offer their own expertise to others as a side career parallel to Uzabase.
As a result of all of these initiatives, we believe we can enrich overall knowledge exchange in our society, where more people will be exposed to a diversity of opinions, recognize the value of their own knowledge, and, in turn, give back to the society using that knowledge.
Over 2022–23, we have made notable progress in merging SPEEDA and MIMIR, delivering the value of knowledge through our products to a wider audience of corporate clients. At the same time, we have also been building up a platform for experts to share their insights via NewsPicks. Although both of these initiatives are still only in their earliest stages of development, I'm excited about the potential they hold and committed to their continued growth and evolution in the future.

We Need What You Bring

At Uzabase, we formulate our Purpose as such:
"Awaken a world of play in business, with our insights".
To make this a reality, Uzabase needs a team of truly diverse individuals who would bring everything that they have to the table. We believe that only a combination of such diverse talents can create services that resolve the actual issues faced by our users and propel their creativity—thus bringing us even closer to fulfilling our Purpose.
This belief is reflected in one of our 7 Values, which we also see as one of the material societal issues we need to solve: "We need what you bring".

A World of Play in Business, for Everyone

Towards achieving our Purpose, "awaken a world of business, with our insights", the Uzabase Group aims to eliminate generational and regional gaps in the provision of information, creating new opportunities for people to experience high quality business content.
By allowing those who achieve Play Business to broadcast their knowledge to others, we create a cycle of knowledge that brings us one step closer to the sustainable sharing of business content across society.
Centered on social business media NewsPicks, our goal is to collaborate with a wide range of communities and age groups to deliver high-quality business content, creating chances to provide insights and new opportunities to those who truly need them.
Over the last year, we launched NewsPicks for Kids, a newspaper aimed at schoolchildren, established Student Picker, a student ambassador system aimed at creating a new generation of businesspeople, and are increasing initiatives targeting specific regional communities.

Yusuke Inagaki

Co-CEO & CTO

Becoming a Technology Company

Considering our origins in engineering, we at Uzabase want to remain a technology-focused company that awakens a world of play in business for all.
Since our founding in 2008, we have combined the power of people and technology, drawing on the strengths of individual members throughout the company to build essential platforms for business insights. It is our aim to free businesspeople from the constraints of labor-intensive tasks and allow them to work in a way that fosters creativity and added value. This goes for not only our users but for ourselves as well.
Over the past year, we have continued to create an environment in which Uzabase members from a diverse range of both engineering and non-engineering backgrounds can make further use of their engineering skills and enjoy challenging themselves in ways that motivate them. With the introduction of new internal systems and the launch of a tech laboratory, we are inching closer to solidifying our place as a technology company.

Yusuke Inagaki

Co-CEO & CTO

Sustainable Data and Content Management

To achieve Uzabase's Purpose, we need data and content, core assets that shape business insights. They are indispensable to us, and something we must strengthen, guard, and deliver stably. To that end, we have been working to build up our infrastructure together with various partners and stakeholders, both inside and outside of the company.
In recent years, countries have initiated conversations on the balance between data protection and its utilization, and this has given rise to various legal and legislative measures. At the same time, the environment surrounding data and content is evolving at a dizzying pace—now more than ever with the advent of AI capable of processing large amounts of data and creating content, such as ChatGPT.
In the face of major changes in the external environment and the Group's management structure, we have newly established the CCoE* and bolstered our risk management system over the course of 2022 and early 2023. As we move forward, we will pursue an even more robust management structure that will enable us to perceive changes promptly and create new value from data and content.
*Cybersecurity Center of Excellence

Ayaka Takeda

SaaS Business, CLO

New Business Model Fusing SaaS and Media

NewsPicks provides a gateway to create new SaaS users. Why? NewsPicks can shift the way people think and work, and SaaS provides the ideal platform to make those changes a reality.
It doesn't end there, either. Those who demonstrate their knowledge and expertise on NewsPicks have the opportunity to become Experts, sharing specialist knowledge and their passion with the world to help solve a range of social issues.
This achievement brings us one step closer to "awakening a world of play in our business", and offers a unique competitive advantage in the form of leveraging the power of human knowledge across all of our products and services.
Over the last year, we have made great strides in integrating NewsPicks with our SaaS businesses including SPEEDA, FORCAS, and INITIAL, with content been linked across a vast range of use cases. The integration of our Expert Network is also going well, with a number of Experts from SPEEDA Expert Research becoming Pro Pickers on NewsPicks.

Addressing Climate Change

A world of play in business awakened through our efforts should be a place of harmony, where the sustainability of society and the fulfillment of individual and business purposes are not mutually exclusive. Protecting the environment, a key issue on a global scale, is of great importance to achieving our Purpose, and we aim to address this issue through our combined efforts across the entire Uzabase Group.
As part of this initiative, we are creating ways to contribute to carbon footprint reduction without interrupting our business activities, be it via our office, IT tools, or work style changes. In July 2022, we moved to a new office in Tokyo's Marunouchi area, which runs entirely on renewable energy.
Furthermore, as a company providing information services and operating social business media, we are intensifying our focus on providing information on global efforts towards environmental protection, including climate change.
Over the past year, we have actively distributed content related to climate change through our SaaS and NewsPicks platforms and increased regular distribution of information on environmental issues and climate change in NewsPicks Topics. We hope that such information dissemination and knowledge circulation will serve as a starting point for business professionals to start changing the way they approach this topic. Our goal is to work with individuals and companies to create a truly sustainable society.
"Awaken a world of play in business, with our insights".
Towards making our purpose a reality, in 2021, we formulated a set of topics that are material to Uzabase, the issues we need to prioritize in order to create value, both societal and economic. By working to address these material issues, we aim to provide continuous value to society, business, and individuals, while also improving our enterprise value.
We are open to re-assessing these material issues in line with changes in the external environment as well as our own business growth in the future.
Step 01

Identifying social issues that need to be addressed

The Sustainable Development Goals (SDGs) set up by the United Nations were used as a reference point for discussions between our management team and independent experts to identify those social issues that are highly relevant to our company's Purpose, business activities, and corporate culture.

Step 02

Assessing importance of these social issues to the company

Social issues identified at Step 1 were then also discussed by the Board of Directors, assessing their relevance and importance to our corporate strategy.

Step 03

Formulating Uzabase's material issues

Based on the assessment done at Step 2, and with the approval received from the Board of Directors, Uzabase's 7 Material Issues were formulated.
This section gives Promotion of ESG (environment, society, governance) of the Uzabase Group.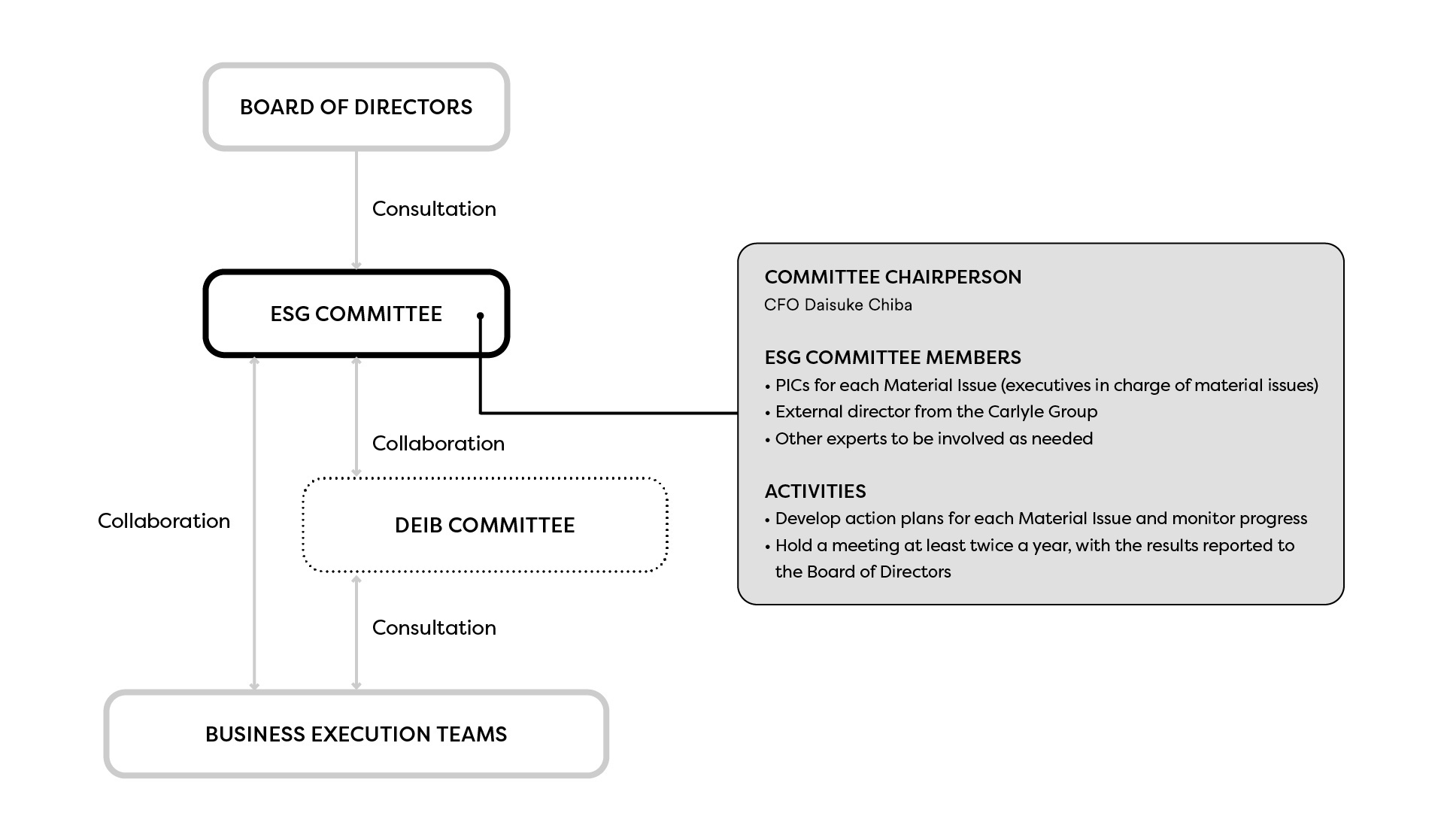 This section gives major ESG (environment, society, governance) data for corporate activities of the Uzabase Group.
This section presents reports by the Uzabase Group intended for all of its stakeholders and containing non-financial information and progress on sustainability-related initiatives for mid- to long-term value creation.
ARCHIVE